Every small business deserves great marketing.
Marketing is complicated. OutboundEngine makes it simple so you can focus on growing your business.
We work with more than 350+ business categories to generate referrals and attract repeat business.
Automotive business owners rely on recommendations and referrals to grow their client base. We help a variety of automotive businesses, including:
Auto Service & Repair
Body Repair & Paint
Collision Services
Glass Repair
Tires
Car Wash & Detailing
Beauty and spa businesses know the power of word-of-mouth referrals and repeat customers can make or break a business. We can help:
Day Spas
Hair Salons
Estheticians
Barbers
Cosmetics & Beauty Supply
Laser Hair Removal
Trust is crucial for financial advisors as they grow and maintain relationships with their clients. We help the following financial professionals:
CPA
RIA
Wealth Management
Estate Planning
Tax Prep
Investment Advisors
When homeowners have a positive interaction with a trustworthy home services professional, they'll always call them first. We help an expansive list of home services professionals, including:
General Contracting
Plumbing
Electricians
Carpentry & Woodwork
Remodeling Services
Flooring Installment
Insurance professionals support their clients in this complicated and often intimidating industry. We help insurance pros in the following categories stay top-of-mind:
Property & Casualty
Life & Health
Automotive
Homeowners
Renters
Disability & Long Term Care
Having a resource for reliable and knowledgable legal advice is so important. We help these legal professionals stay top of mind when their network needs them:
Criminal Law
Bail Bonds
Accidents & Personal Injury
Divorce Attorneys
Tax Law
Real Estate Law
Homebuyers rely on mortgage professionals to guide them through the biggest purchases of their lives. We help these mortgage professionals keep in touch beyond the point of sale:
Mortgage Brokers
Home Mortgage Lenders
Commercial Lenders
Loan Officers
Refinancing
Title Companies
Pets are members of our families. From the food they eat to the care they receive, we want the best for them. We help these pet services and more:
Animal Hospitals
Pet Boarding
Grooming
Dog Walking
Veterinarians
Pet Insurance
Whether you're at a tradeshow or the office, promotional products are all around. We help a variety of promotional products companies, including:
Apparel
Uniforms
Print Shops
Distributors
E-Commerce
Office Supplies
Real estate professionals depend on their network for referrals and repeat business, long after after you sign on the dotted line. We help these types of real estate professionals stay in touch year-round:
Residential
Luxury
City Living
Property Management
Brokerages
Condominiums
From historical walking tours to finding the perfect ski resort, we can help your business stay in the forefront of your customers. We work with numerous travel related companies, including:
Travel Agents
Bed & Breakfasts
Resorts
Bus Tours
Walking Tours
Car Service
Wellness means supporting both your mental and physical health. We help the following wellness professionals share consistent, interesting content with their network:
Gyms
Yoga Studios
Massage Therapy
Acupuncture
Chiropractors
Nutritionists & Dieticians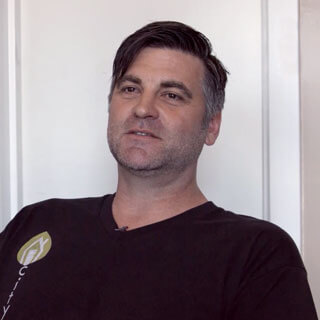 The day that we get our email campaigns sent out we usually get 4-5 emails asking for service and then within the next few days with get half a dozen to a dozen phone calls.
Joe Pinkston | Cityscape Garage Doors